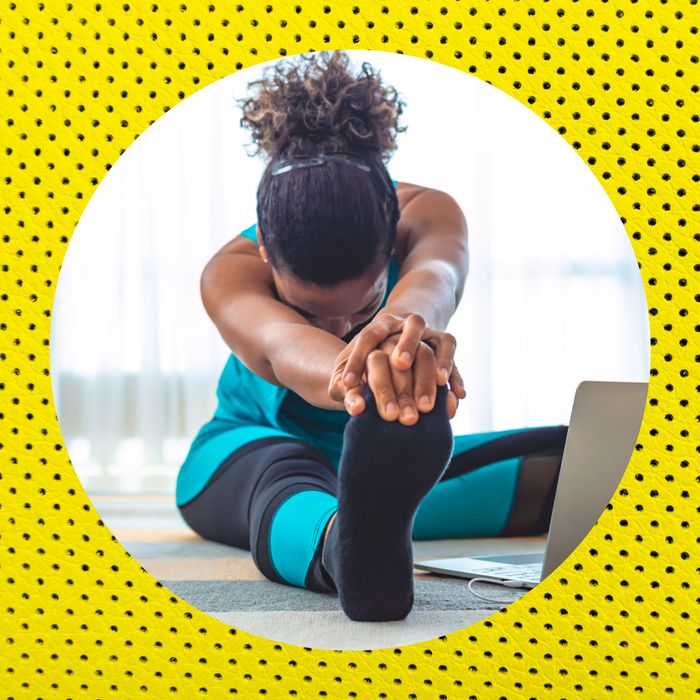 Hot Bod is a weekly exploration of fitness culture and its adjacent oddities.
Who knows if this interminable year will ever end. By some counts, we have ten weeks left, but I don't know if I trust it. In any case, it can be comforting to break down the brutal expanse of time into discrete blocks — each of which could be occupied with a new fitness experiment for you with some free trials. Free trials are the best! They've got hard boundaries (admirable) and feel like an intoxicating combination of (1) a gift someone gave you, (2) something you stole, (3) a formal introduction, (4) a daring way to try something new in a blessedly low-commitment arrangement.
Here are 11 for you to burn through or peruse before making a big commitment:
Despite the premise, Harlem Cycle's online classes don't involve cycling, but instead are exercises meant to bolster your cycling (or running) practice. Their online program includes classes in stretching, toning, strength, mobility, and other cardio, as well as nutrition classes. The design of their app is also really well suited to prearranging a weekly schedule, which is something I miss about life in general!
Jessamyn Stanley's magnetic guidance and yoga series — which comes with descriptions like "highly flammable" and "practice submission" — will speak to the most yoga-indifferent among us. Mostly, I am a creature way too distractible and energetic for yoga, so if I'm doing a class, it is because I have been wooed by the charm of personality at the helm. Stanley's got charm for days — way more than 14 days, but that's the generous trial period she offers.
If the be.come project were a sound, it would be a very satisfied, belly-originating sigh. This 30-minute daily stretching series is calming and satisfying. I also noticed that after a few weeks of doing it, I'm way better at balancing.
FORWARD Space classes are an admirable coupling between athletic maneuverings and some hip-hop-rave–inflected dancing. It's a very 20-teens party over there. I'm a particular fan of their classes that incorporate weights, because they trick me into using my weights.
The Bonded by the Burn ethos is all about low-fi equipment: resistance bands and gliders (little pads that you pop under your feet so that certain core exercises require a lot of extra work) and your sheer tenacity. This has been one of the most challenging workouts I have tried during this quarantine period of virtual class hopping! I'm warning you in a way I was not warned.
The production values are stellar with this one! Alo Moves…