Extracts of mint leaves are beneficial for both skin and hair. Peppermint oil is prepared from this extract. It can be used for work such as health, beauty and smoking. It relieves stress and promotes feel good hormone. At the same time, using this oil for hair is also beneficial in many ways. Actually, this oil has a pleasant aroma which works to improve the mood. At the same time it also has some antimicrobial properties, which along with keeping the brain cool, also improves blood circulation in the head. At the same time, there are many other benefits also, so let's know some special ways and benefits of using Pipermint Oil for hair.
Benefits of mint oil for hair
Mint oil contains menthol and in this element most benefits of this oil are present. Mint has its own flavor, aroma and coolness. Many types of hair problems can be overcome with peppermint essential oil. There are many benefits of massage with this oil. How does peppermint oil benefit the hair and what problems can be overcome by it. At the same time, you can use it according to hair troubles.
Read also: Can hair conditioner be used as a gel on dry hair? Learn its advantages and disadvantages
1. To increase blood circulation
A study published in the journal Toxicological Research shows that peppermint oil increases blood flow to the hair follicles, thereby improving hair health. Researchers also found that when peppermint oil was used, hair became faster and thicker. Peppermint oil also contains a compound called methanol which gives you that cool sensation. This compound is mainly responsible for increasing blood flow and circulation when applied to the scalp. To use it, apply it on the head with light hands and massage the hair daily before going to bed at night.
2. For dry scalp
Dry scalp often causes itching and dandruff. At the same time it happens when your hair holes become bulky. This is the reason why hair starts falling rapidly. Peppermint oil can be used in this situation. This oil provides nutrition to your scalp. At the same time, it also helps to balance sebum production on your scalp. In such a situation, if your scalp is dry, always mix camphor in oil and massage the scalp before bathing.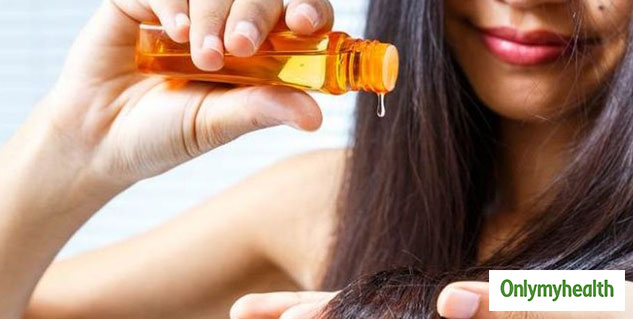 Read also: Bollywood actress Raveena Tandon is telling desi recipe to stop falling hair and strengthen, watch video
3. For itching or dandruff
Just as mitochondria are the powerhouse of cells, peppermint oil is the powerhouse of nutrients. This oil is rich in iron, folate, potassium, and omega 3 – all of which are necessary to maintain healthy hair. Now we don't need to tell you that when your hair is healthy it grows well without any split ends or damage. Peppermint oil also has antiseptic and antimicrobial properties that relieve any itching or dandruff. Huh. To use it, mix some neem leaves in the oil and mix cloves and place it in light sunlight. Then use this oil continuously. After a few days you will find that your dandruff will start to reduce.
Peppermint oil contains compounds called pullegon and mentone, both of which are known to strengthen hair roots. This in turn prevents hair loss and promotes hair growth. On the other hand, if you feel itchy and burning with the use of this oil, then you should use coconut oil in this oil.
Read more articles on Hair-Care in Hindi
.