Aloe vera is such a thing, which is used for many diseases related to skin, hair and stomach. It is an important element used in the world of beauty and health. The presence of many medicinal properties makes it more special. This thick green plant collects water in its thorny leaves, which makes them thick and fleshy and this is also known as aloe vera gel. Most people do not just eat aloe vera gel but also eat it. Many people drink and make aloe vera juice to reduce obesity. But its consumption can also cause side effects. In such a situation, if you are using aloe vera to reduce obesity, then first of all know these disadvantages.
Aloe vera side effects
Allergic to latex
The leaves of aloe vera contain latex, which comes from under the skin of the plant. Many people are allergic to latex, which can cause stomach irritation, stomach cramps, and low potassium levels. Externally, latex may be safe, if properly applied. However, more research is needed. So if you are taking aloevora and you are having stomach problems, you may be allergic to latex.
Redness in the eyes and skin rashes
Most people may experience redness in the eyes, skin allergies such as skin rashes, burning, and itching, etc., using aloe vera gel. In such a situation, if you experience these initial symptoms, contact the doctor and get it treated.
Low blood sugar
Consuming aloe vera juice can cause your blood sugar level to drop. It has a laxative effect, which may increase the likelihood of electrolyte imbalance in diabetics. If you are diabetic, it is better to consult a doctor before consuming aloe vera juice. This is because, like high blood sugar, law blood sugar can also be dangerous. You may faint due to sudden drop in blood sugar.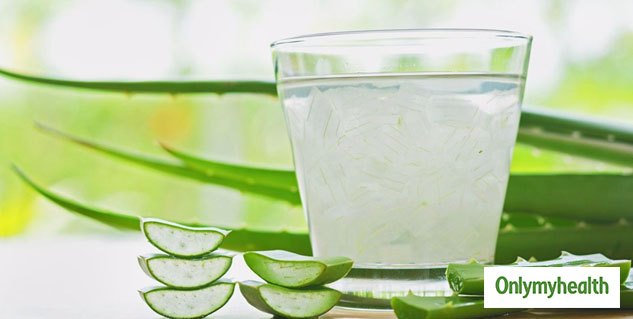 Dehydration
The laxative effect of aloe vera can lead to dehydration. Use of aloe vera like laxatives to reduce constipation can damage the intestines. At the same time it can also be a cause of dehydration. However, if taken in higher doses than recommended, they may cause dehydration and you may also face troubles in other ways.
Its intake to lose weight immediately after pregnancy
It is said that pregnant women and lactating mothers should avoid drinking aloe vera juice due to its irritable properties. It can also stimulate uterine contractions in pregnant women, causing birth complications. With this, the consumption of aloe vera can be very harmful to weight-loss immediately after delivery. Therefore, expectant mothers or lactating mothers avoid taking such steps.
https://www.youtube.com/watch?v=KnqcBeiVqF4
May reduce potassium levels
Aloe vera juice can reduce potassium levels in the body, which can lead to irregular heartbeat, weakness, and fatigue. Elderly and sick people are generally advised not to consume it. Stomach discomfort is one of the most common side effects of drinking aloe vera juice. Latex can cause excessive abdominal cramps and pain. Do not consume aloe vera juice, especially if you are struggling with stomach problems.
Read more articles on Weight-Management in Hindi
.